About
Howard Keller founded Keller Supply in 1945. From humble beginnings in a 600 square foot warehouse loft, we have grown to a multi-story corporate headquarters with over 70 branch operations located throughout nine western states. Even after half a century of expansion, we remain a local family-owned and managed business.
About Categories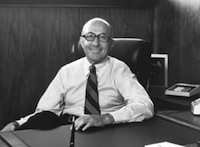 We are proud of the fact that we are one of the largest independent plumbing wholesalers in the United States. Representing many of the world's top plumbing lines, we have been a distributor of Kohler products since 1951 and continue that association with the upcoming addition of Kohler Showcases in several of our branches.
Keller is unique in that we were the first company of our kind to split wholesale activities between both plumbing contractors and retailers. We do this by supplying plumbing contractors with both residential and commercial materials for new construction. On the other end, we also supply the home improvement centers and plumbing merchandisers with necessary materials for projects that need attention when construction is complete.

Over the years, we at Keller Supply have earned recognition by representing new and innovative plumbing products for the home kitchen and bath. In 1982, we launched Leisure Supply specializing in spa and pool products. Next saw the addition of Keller Air in 1993 for HVAC products. We round out our company diversification with the Commercial / Industrial Division, catering to the commercial plumbing market, and the International Division, which better serves the specific needs of our customers selling in the world market.

Keller Supply is a people company. Our employees have built a customer oriented reputation throughout the Northwest. In a day of impersonal corporate organizations, we are committed to continuing the personal approach that is responsible for our success, and has served us well, as we consistently outperform our competitors. The company's in-house slogan is we don't want orders, we want customers.

We at Keller Supply look forward to doing business with you. Our Kitchen and Bath Showcases feature top-quality product lines at competitive prices and we always welcome any discussion of your product needs or services. Give us a call, or better yet, come on by. We look forward to the opportunity of working together with you.